Baby Sukin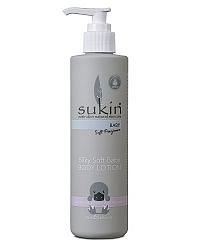 This wonderful new Baby range has been specifically formulated to provide incredibly caring, natural products for all babies from as young as new-borns.
Gentle Baby Wash..
Naturally gentle body wash formulated for daily bath time with baby Combination of soothing botanicals Available in soft signature fragrance or fragrance free..
Natural Baby Shampoo
Natural Baby Shamoo is Sulphate and paraben free .A light Sukin scent of essential oils Gentle for babies' soft hair and scalp fragrance or fragrance free.
Baby Lotion
Nourishing and gentle lotion Protects the moisture barrier of babies' skin Available in a light fragrance of essential oils or fragrance free
Now in store and ready for you and your baby at very affordable prices