Bragg Apple Cider Vinegar available now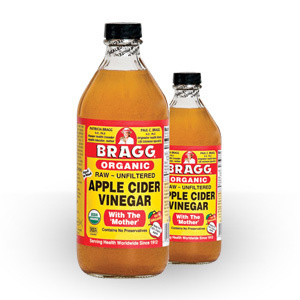 Braggs Apple Cider Vinegar
Bragg Organic Raw Apple Cider Vinegar is made from delicious, healthy, organically grown apples. Processed and bottled in accordance with USDA guidelines, it is Certified Organic by Organic Certifiers and Oregon Tilth; and is Kosher Certified. Bragg Organic Raw Apple Cider Vinegar is full of zesty Apple Cider Vinegar natural goodness.
Delicious, ideal pick-me up at home, work, sports or gym. Perfect taken 3 times daily-upon arising, mid-morning and mid-afternoon. 1-2 tsps Bragg Organic Vinegar in a Glass of Purified Water and (optional) to taste 1 to 2 tsps Organic Honey,
Apple cider vinegar, or ACV, is made from apple juice which is fermented into hard apple cider. It then goes through a second fermentation process to become apple Cider Vinegar. A natural antibiotic and antiseptic, apple cider vinegar's health benefits are thought to include weight loss, lower blood sugar levels and improvement of skin conditions and allergies. It can also relieve heartburn, nausea and migraines. Apple cider vinegar has many non-health related uses too, like hair conditioning, skin care, dental care and as a household cleaning product. Health benefits of apple cider vinegar:
•Low calories: Apple cider vinegar only contains about 3 calories per tablespoon.
•It contains all the good stuff: Quality apple cider vinegar contains amino acids, antioxidants and small amounts of potassium.
•Vinegar can help kill pathogens, including bacteria. It has traditionally been used for treating nail fungus, lice, warts and ear infections.
•Apple cider vinegar can help stabilise blood sugar levels, which is very useful for diabetics. It has also been shown to improve insulin levels.
•Weight loss: Some studies show that apple cider vinegar can help with weight loss by increasing feelings of fullness and lowering glucose and insulin levels.
•It can prevent heart disease and reduce blood pressure. In studies of rats, apple cider vinegar lowered cholesterol and triglyceride levels, which can help in the prevention of heart disease. •Because it balances your body's P.H. levels, it is great to include as part of a detox.
•ACV is great for your lymphatic system. Because of its ability to cleanse the lymph nodes and reduce mucus and sinus congestion; it can help with allergies and related symptoms, such as sore throats and headaches.
•It can help eliminate candida. Apple cider vinegar is rich in natural enzymes that can help rid your body of yeasts that cause thrush.