Buy Turmeric Extra Strength 30's for $10 when you buy any Good Health Product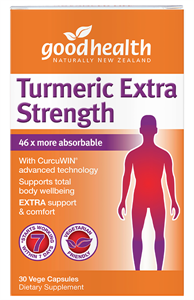 Want to try Turmeric...Buy any Good Health product and you can buy a box of 30 for only $10. A great way to trial this fantastic product.

Good Health Turmeric Extra Strength is a high strength Curcumin formula for extra total body support. Curcumin is the scientifically proven ingredient found in Turmeric. Turmeric Extra Strength contains a unique Curcumin extract, CurcuWIN®, that uses advanced technology to enhance absorption by more than 46 x for greater joint comfort. This powerful formula also offers support for the cardiovascular, digestive and nervous systems. *High quality Boswellia provides further joint support & is clinically shown to start working within 7 days.