Spring Wellness Brochure out now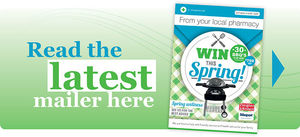 Nothing signals the start of spring like cute new-born lambs ,beautiful daffodils ,itchy eyes , sniffles and sneezes.Springtime also brings long awaited warmer weather , outdoor family fun , BBQs , picnics and outdoor games , but , for many New Zealanders , it is also the start of allergy season. The leading spring trigger is pollen and it can creat mayhem on the bodys defences.
To help your family battle the woes of springtime allergies and ensure enjoyment of this beautiful season we have created a list of "spring allergy essentials".
Read about this in our spring brochure...click here
Spend $30 or more on products featured in this brochure and go into the draw to win a Ziegler and Brown twin grill BBQ.