Win the Ultimate Fitness Pack with ADVIL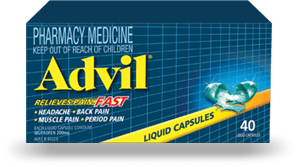 Win the Ultimate Fitness Pack...when you buy Advil , go into the draw


Advil Liquid Capsules
Advil Liquid Capsules contain a liquid form of ibuprofen inside a soft capsule shell. Because it is a liquid, it is absorbed into your system fast, providing relief.
Advil Liquid Capsules are indicated to relieve pain from headaches, backaches, muscle aches, period pain, dental pain, minor arthritis pain, and aches & pains of the common cold and fever. Advil Liquid Capsules are absorbed 2X FASTER vs. standard ibuprofen tablets.
1 Clinical studies also confirm that Advil Liquid Capsules can provide faster & stronger relief than regular paracetamol tablets for tough headaches.
2 Indications Advil Liquid Capsules provide temporary relief of pain and discomfort from: •Headache •Back Pain •Muscle Pain •Period Pain •Dental Pain •Arthritis Pain •Sore Throat Pain •Cold & Flu •Reduces Fever