Madeleine Miles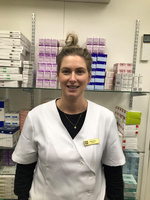 Madeleine is a quailified pharmacist ...graduating from Otago University in 2011.
She has worked as a hospital and Clinical Pharmacist in Wellington , Taranaki , and Dunedin.
She has moved back to Southland after having her daughter , Elsie , in November 2020.
She lives in Winton with her husband , Adam , who is a trained sports psychologist.