30-Plus .....on Special now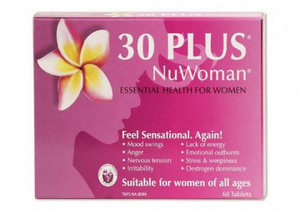 30 PLUS Hormone Balance Support is a scientifically-formulated natural supplement for women which assists and supports normal hormonal balance.
Many women experience hormonal fluctuations, menstrual and other issues that can dramatically affect their everyday lives and relationships with children, partners and friends.
30 PLUS Hormone Balance Support formula combines the internationally studied and proven effectiveness of Cimicifuga racemosa (Cimi-Max®) with tyrosine (150mg), chromium picolinate (200mcg), B-complex vitamins (B6 25mg, B9 100mcg, B12 150mcg) and calcium (9.23mg) to support the body's own hormonal balance. Hormonal imbalance or oestrogen dominance can be caused by: natural changes after childbirth; synthetic sources, such as the contraceptive pill; hormone replacement therapy (HRT); as well as diet; exposure to BPA and monthly hormonal changes.

Highlights
May help with nervous tension
May help with mood swings & emotional stability
May help with stress & energy levels
May help with oestrogen dominance
Suitable for women of all ages
We have 30-plus on special now for $29.99 (while stocks last)