Rhuger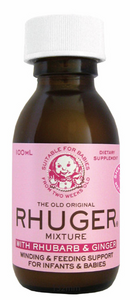 The Rhuger Mixture is an effective alternative formula with natural Rhubarb and Ginger extracts. For safe and gentle relief in infants and babies with winding and feeding problems and associated symptoms.
For over 25 years Rhuger Mixture has been helping new mums with reflux symptoms, baby reflux remedies and colic remedies. It even works on constipation!
Rhuger Mixture is a safe, natural product created by an experienced pharmacist and contains no artificial colour or flavouring agents. Alcohol and Preservative free.
How does Rhuger Mixture Work?
Rhuger has a three way action on the surface of the stomach and gut by relaxing the smooth muscle, releasing trapped air, emptying the stomach and aiding the passage of contents through the gut. The earlier you start the quicker the results. Rhuger is best given before feeds and in small frequent doses. It is most effective when the dose is warmed to body temperature. This can be done by warming a teaspoon with hot water, or by using a little expressed breastmilk, before administering directly to baby. Rhuger can be added to formula or given during feeds.
The Rhuger Mixture for reflux symptoms, especially baby reflux, colic, wind and constipation. If you're struggling with your baby feeding,the Rhuger Mixture can bring some calm back to your day, the earlier you start the quicker the results.