Sunsense Ultra 50 plus Sunscreen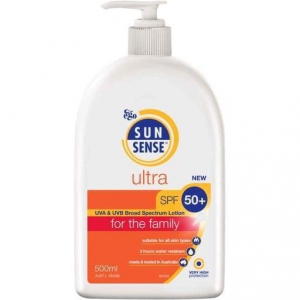 Best Value Sunscreen:
Help protect your family with SunSense sunscreen
With summer now on its way finally , we need to start thinking of sun awareness. So we have secured a good sunscreen deal and are passing on the savings to you without compromising quality. ,
SunSense provides the highest UV protection and is scientifically formulated for individual skin types. The range is fragrance free, dermatologically tested, non-comedogenic (work clog pores) and contain's added moisturisers to help hydrate skin.
SunSense Ultra SPF 50+
Easily applied and readily absorbed, SunSense Ultra provides even coverage for better protection. Great sunscreen the whole family can use. Suitable for all skin types.
What are sunburn, skin cancer and photosensitivity?
Although our skin has its own natural defence mechanism, it is not enough to prevent the sun's rays from causing problems ranging from mild sunburn and premature ageing, to more serious conditions such as skin cancer.
Skin cancers appear on the body as lesions that vary in appearance depending on their type, and may look like an ulcer or sore that doesn't heal, or a dry or scaly patch that could be mistaken for psoriasis, eczema or an infection. Melanoma, the most dangerous skin cancer, may look like a freckle, mole or spot which changes colour, size or shape noticeably over a period of months.
Photosensitivity refers to an abnormal reaction to light and can be caused by some medications, cosmetics or perfumes. Reactions may include skin rashes, itching, reddening and brown patches of skin discolouration.

What can you do about sunburn, skin cancer and photosensitivity?
The best way to prevent skin damage is to limit your time in the sun, particularly between 10am and 2pm or 11am and 3pm during daylight savings, when the sun's rays are most harmful.
When you are outside, wear a hat and other protective clothing and apply a broad spectrum SPF 30+ sunscreen to all exposed areas of the skin. Sunscreens need to be applied liberally at least 15 minutes before going out in the sun and should be re-applied every 2 hours and after exercise, swimming and towelling dry. Protection is necessary even on cloudy days, since up to 80% of UV rays can penetrate light cloud cover. So it is important to use sunscreen all-year-round, particularly on your face.
It is also important to examine the skin regularly for any unusual changes or growths as skin cancer is easily treatable in its early stages. Any concerns should be consulted by a doctor.
Sunsense Ultra 50 plus 500ml pump pack now $35 at Winton Pharmacy