Losec Extra 20mg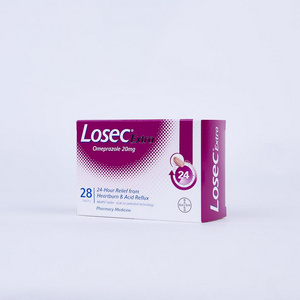 We now have new pricing on Losec Extra ...14's at $23.00
28's at $41.00
Losec is used for the following conditions :
Reflux Oesophagitis Losec is used to treat the symptoms of reflux oesophagitis or reflux disease.This can be caused by "washing back" (reflux) of food and acid from the stomach into the gullet (oesophagus). Reflux can cause a burning sensation in the chest rising up to the throat, also known as heartburn. Losec is also used to help stop reflux oesophagitis coming back or relapsing.

Losec is also used to treat acid-related dyspepsia. Dyspepsia describes any regular upper abdominal pain or discomfort that is often, but not always, related to eating.

Peptic Ulcers; Losec is used to treat peptic ulcers. Depending on the position of the ulcer it is called a gastric or duodenal ulcer. A gastric ulcer occurs in the stomach. A duodenal ulcer occurs in the duodenum which is the tube leading out from the stomach. These ulcers can be caused by too much acid being made in the stomach. Losec is also used to help stop gastric or duodenal ulcers coming back.