Daylong Sunscreen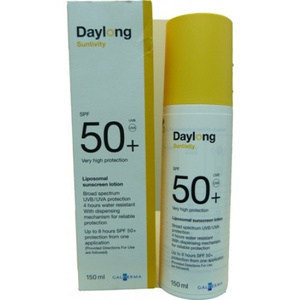 Daylong Sunscreen back in stock
Daylong liposomal soaks in under the first layer of skin to sunscreen your body. This allows you to enjoy up to 8 hours sunscreen protection until your outer layer of skin performs its daily breakdown / loss / sheds.
Daylong Suntivity SPF50+ is a special preparation based on liposomes which provides effective SPF50+ protection for up to 8 hours from 1 application (provided Directions For Use are followed). Liposomes surround the UVB and UVA filters with a natural soya lecithin to help them bond with your skin and keep the skin hydrated throughout the day. Liposomes also make Daylong Family SPF50+ easy to apply, its pleasant and non-greasy formula won't clog your skin's pores.
Daylong SPF50+ contains vitamin E and is characterised by excellent cosmetic and skin care properties. It has a lasting moisturising effect on the top layers of the skin.
Daylong SPF50+ is free from perfume.
FEATURES and BENEFITS
Up to 8 hours SPF 50+ protection from one application. (Provided Directions for use are followed)
Easy to spread, fast absorption, non-sticky, results in great skin feeling
Pump dispenser provides a consistent amount of product for reliable protection
Suitable for all over body & face, great for the Nudist!
Specially designed for kids' sensitive skin
For children from 12 months and older
SPF 50+ UVA / UVB Logo Moisturising Nurtures Skin with glycerin, panthenol, aloe vera and vitamin E
Free from parabens, fragrance, and PEG-emulsifiers No perfumes, or additional preservatives Hypoallergenic Non-comedogenic Dermatologically tested 4 hours water resistant Liposomal sunscreen lotion
One application will last for up to 8 hours of normal use. Apply generously (2 to 3 tablespoonfuls for the entire body) to clean, dry skin 20 minutes prior to exposure to the sun. Reapply regularly every 2 hours, especially after swimming or towelling. Apply before use of a moisturiser.
Daylong Family SPF 50+ does not rub off easily so does not need to be reapplied after each towelling dry. Bathing and/or showering with soaps or shower gels can reduce the effectiveness of Daylong Family SPF 50+.
One application allows 80 minutes of water exposure in 8 hours whilst retaining Daylong's Family SPF 50+ protection. Reapply if you spend more time in the water.
Use protective clothing, hats and eye wear. Keep out of eyes.
WARNINGS Daylong Family SPF 50+ is not appropriate for infants 1 year and under who should avoid direct exposure to the sun completely. In cases of severe sunburn always seek medical advice. Avoid sun exposure when the sun is at its strongest (between 11am and 3pm). Daylong Family SPF 50+ should always be part of a sensible sun protection regime including a hat, shirt and sunglasses. Avoid direct contact with eyes as Daylong Family SPF 50+ can cause burning. The UV filters in Daylong Family SPF 50+ can lead to a discolouration of clothing, synthetic materials and other materials such as swimming pool covers. It is recommended that you do not apply Daylong Family SPF 50+ immediately before dressing.